Soulo & Disney Spotlight (First Act / Seven45 Studios)
The Challenge: To develop a line of microphones to enable a karaoke experience on the Apple iPad, iPhone and iPod Touch.
First Act developed two microphones to interface with the iPad: a wired microphone that connects to the analog microphone input integrated into the headphone jack and a wireless digital audio microphone that connect through Apple's proprietary 30-Pin USB docking connector. The wireless connection had challenges in that Apple does not support high resolution Bluetooth audio input on the iPad. A proprietary 3rd party 2.4GHz wireless solution was used in the design.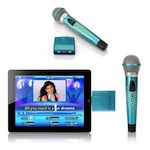 The Disney Spotlight and Soulo products represent two different brands of essentially the same lines. They are designed to match up visually with their respective apps from Seven45 Studios for karaoke.
In addition to the microphones, both lines include additional peripherals such as USB and battery-powered speakers and stands.
The following are a some promotional videos for the microphones and apps